Use referral code 1064969fe9 or referral link when signing up for Celsius and you will get free USD50 in Bitcoins with your first transfer of USD400 or more!
What is Celsius?
Celsius is a platform where it lets you earn high earn high interest rates on your cryptocurrency (eg. bitcoin, ethereum and many more). It was founded in 2017 and since then Celsius has been growing very quickly, especially for the past
few months. In March 2021, Celsius was re-hauling and said that it took only 100 days to triple the assets under management to 10 billion dollars and double its users to 485,000 [link].
How does Celsius work?
Celsius allows you to put 40 over cryptos in their account [link]. It's unique structure that allows the company to be able to pay out 80% of its revenues to depositors.
Comparing Celsius to other similar platforms
| | | | | |
| --- | --- | --- | --- | --- |
| Platforms | Celsius | BlockFI | Nexo | Hodlnaut |
| Total assets under management | $17B (as of Apr 21) | $15B (as of Mar 21) | $12B (as of Mar 21) | $234M (as of Apr 2021 |
| Total users | 750K (as of Jun 2021) | 250K (as of Mar 21) | 1.5M (as of Apr 21) | 5000 (as of May 21) |
| Supported Cryptos | 43 | 13 | 24 | 6 |
| Withdrawal fees | free | 1 free crypto + 1 free stablecoin withdrawal per month | 1 free crypto withdrawal per month (base tier) | Equal or more than USD10 (depending on crypto) |
Comparing Celsius interest rates to other similar platform
We will be comparing five of the common cryptocurrency:
Crypto
Celsius
BlockFI
Nexo
Hodlnaut
BTC
In kind: 6.2%
In cel: 4.4%
4%
In kind: 6%
In nexo: 8%
7.46%
ETH
In kind: 5.35%
In cel: 6.35%
4%
In kind: 6%
In nexo: 8%
7.46%
USDC/USDT
In kind: 8.88%
In cel: 11.21%
7.5%
In kind: 10%
In nexo: 12%
12.73%
DAI
In kind: 4.6%
In cel: 5.78%
7.5%
In kind: 10%
In nexo: 12%
8.32%
In kind refers to receiving interests in the cryptocurrency that you are holding. If in cel or in nexo, it means receiving interests in Celsius or nexo coins respectively.
While Hodlnaut may seem to be providing the highest interests, do take note that there is withdrawal fee and at the same time, it could be also Hodlnaut's strategy to retain its customers.
What are Celsius features?
Celsius is available in both mobile application or through it's website http://www.celsius.network
Celsius started off as a mobile application and recently ventured into setting up it's own website. Do note that you cannot buy/sell cryptos in the website yet, but you can do the basic function like send receive and borrow cryptos on the website. So it is better to use the mobile application for now.
Buying cryptos on Celsius? Not quite recommended.
The fees are quite high as you can be charged with 3.5% when making a transaction under global.
And if you were to transfer using bank transfers, it only accepts USD and the ACH transfer cost you 0.1%. It is much easier and cheaper to buy your cryptos on platforms like coinhako, etc.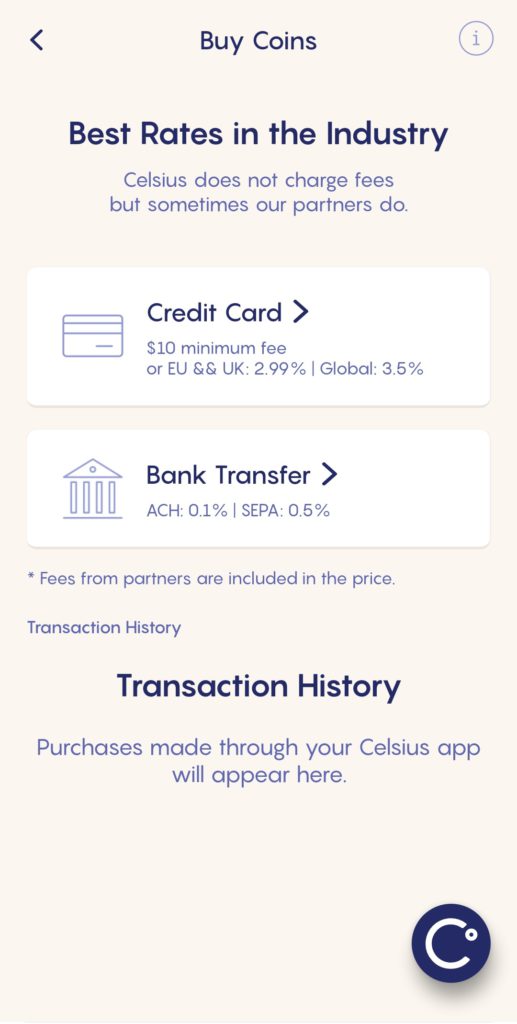 Is Celsius safe to use?
Fireblocks is their custodian which provides insurance on digital assets held by Celsius [link]
However, Celsius is not regulated by Monetary Authority of Singapore.
What I like about Celsius?
Celsius lets you earn interest on a lot of different cryptos so if you have the habit of buying weird weird cryptos, Celsius will be able to let you earn some interest on that.
Do note that Celsius is one of the biggest landing platforms out there that gives me assurance that it won't just close
shop tomorrow and it doesn't have a withdrawal fee so that means you can withdraw as many times as you like.
What I don't like about Celsius?
My issue actually is with all of these landing platforms.
I wish that they can be more transparent on who they lend my cryptos to. To me, these lending platforms feel like a blackbox to me as we don't know who they lend it, and what are the interest charges.
However, this could be their trade secrets and they cant just reveal it all online.