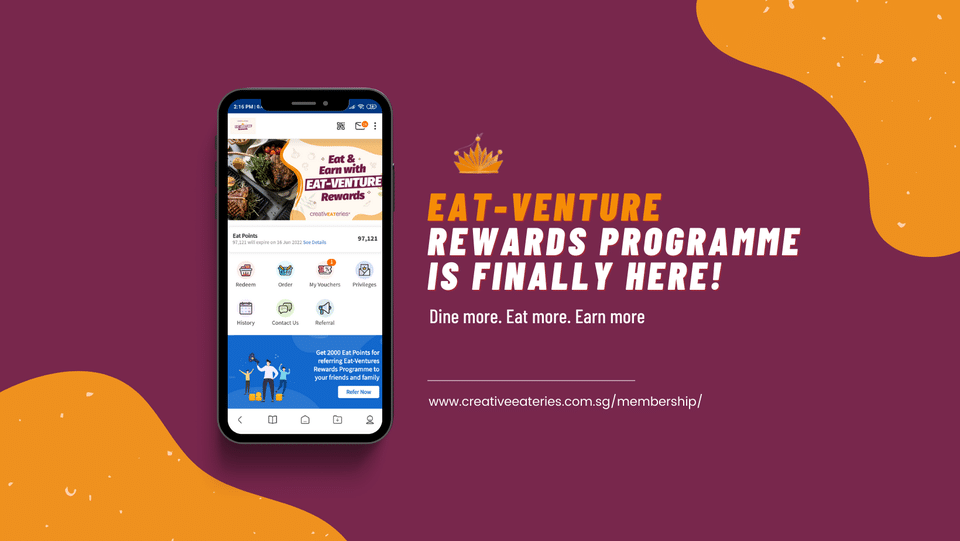 Sign up for free membership using referral link to get $25 and $50 welcome coupons. Terms and conditions apply.
Who is the founder of creative eateries?
Creative Eateries, founded in 1992 by the visionary Mr. Anthony Wong, emerged as a trailblazer in unique dining concepts, providing a refreshing alternative to the prevalent hotel restaurant scene of the 1990s. Creative Eateries not only thrived, but also took on the responsibility of delighting patrons with a diverse range of dining options, fueled by the growing demand for innovative dining experiences.
Creative Eateries is a stalwart in today's competitive market, with over 30 years of seasoned expertise. We take pride in being a dependable and trustworthy brand, providing consistently exceptional dining experiences for any occasion. Creative Eateries has you covered for Thai, Western, Chinese, and Japanese cuisine, as well as top-notch catering services.
What are the restaurants under Creative Eateries?
Bangkok Jam
Siam Kitchen
Suki-Suki Thai Hot Pot
Sarai Fine Thai Cuisine
Typhoon Café
Barossa Steak and Grill
Vineyard
Suki-Ya KIN
Tajimaya Yakiniku
Rocku Yakiniku
Suki-Ya
Dopo Teatro
Tanglin Cookhouse