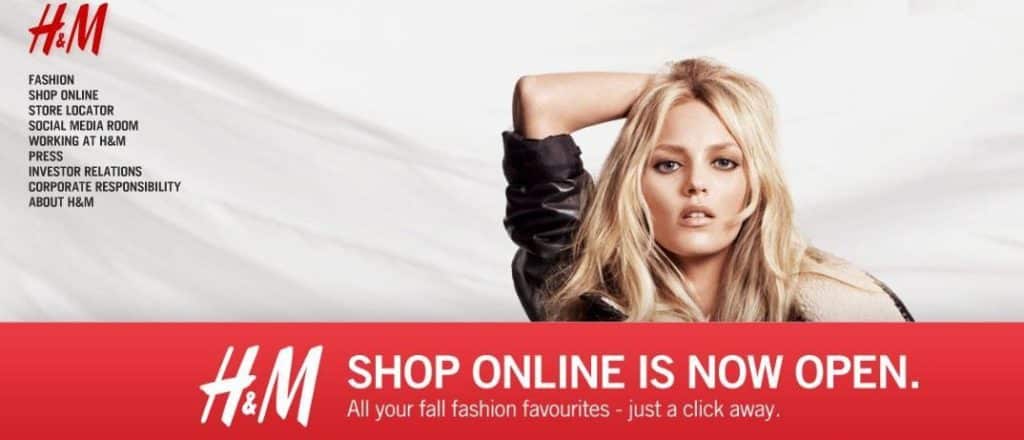 Get a 10% discount coupon on your purchase when signing up using our referral link
Introduction
Welcome to the referral program from H&M Singapore! You can get a fantastic 10% discount coupon on your purchase by using our referral link. You'll also have access to the H&M Membership, a digital loyalty program that gives you points for every purchase you make, whether online or in-store. These points can be exchanged for discounts, invitations to special events, and much more. Continue reading to learn how to get the most out of your H&M Membership and maximize your benefits.
How to Become an H&M Member
You can begin your H&M Membership journey by taking these easy steps:
Join using our referral link. You will receive a 10% off coupon to use on your first purchase after signing up using our referral link.
Complete your membership profile: Completing your membership profile will earn you 40 points. This makes sure you get unique updates and offers based on your preferences.
Earn points by participating in different activities, then use them to redeem thrilling rewards. Here is how to accumulate points:

When you make a purchase, whether in-person or online, you will accrue points based on the amount you spend. Earn 1 point for every $1 spent. You accrue more points as you shop more.
Bring your own bag: When you shop at an H&M location, bring your own bag to help reduce waste and earn 10 points. It's a point-boosting strategy that's good for the environment.
Recycle clothing: By giving your old clothes a second chance at life at any H&M location, you can earn 40 points. H&M is dedicated to eco-friendly fashion, and this program thanks you for supporting the recycling movement.
Refer friends: Earn 75 points for each successful recommendation of a friend who joins the H&M Membership. To be eligible for the referral bonus, encourage your friends to sign up and make their first purchase.
Redeeming Your Points
As you earn points, you'll have the chance to exchange them for fun prizes. This is how it goes:
Unlock exclusive discounts and offers that are only available to H&M Members. Watch your inbox for these special offers.
Birthday treats: Enjoy a birthday treat from H&M to mark your special day. As a member, you'll get a special offer to help you celebrate your birthday even more.
Invitations to special events: Attend debuts of new products and fashion shows. Experience the newest collections and trends from H&M first.
Early access to sales: Take advantage of early access to H&M's upcoming sales occasions. You'll get the benefit of shopping the best deals before anyone else if you're a member.
Gaining 400 points will allow you to move up to the Plus tier, where you will beeligible for more rewards. This upgrade makes available even more privileged rewards. As soon as you reach the Plus level, you will remain a Plus member for the rest of the current membership year as well as the following membership year.
Bonus Vouchers: Each 150 points you earn will grant you access to an SGD4 Bonus Voucher. You can save money on your next H&M purchase by using these coupons both online and in-store.
Why would anyone want to join the Plus tier?
The benefits of the various membership tiers are detailed in the comparison table below. Refer to H&M website for the latest benefit.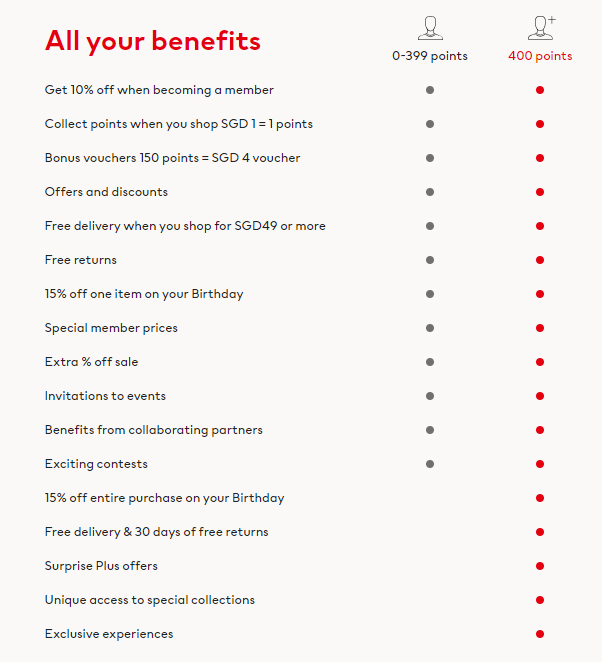 Conclusion
You can enter the H&M Membership program as well as receive a generous 10% discount coupon on your purchase by using our referral link. You receive a variety of benefits from the membership, such as points for all purchases, exclusive deals, invitations to events, and more. With the referral link from H&M Singapore, start earning points right away and gain access to a host of advantages. Enjoy your shopping!