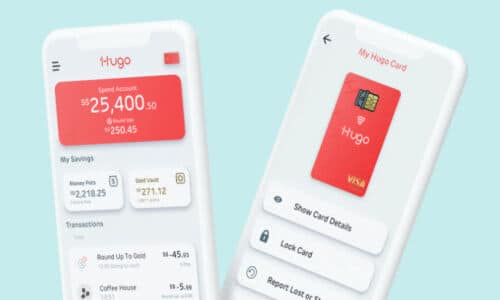 Sign up using this link to receive free S$20 goldback when you upgrade to Hugo Plus+ and have spent at least $100 on your Hugo Card within 60 days of your signing up.
Download Hugo Save
What is Hugo Save?
Hugo is your Wealthcare® buddy who looks after your financial well-being through your digital account, which allows you to spend, save, and invest in gold. So, how does it accomplish this? Hugo provides insights to help you spend smarter and tracking tools to help you plan ahead of time to save for your goals. Finally, they assist you in growing your wealth by making one-time or scheduled deposits into their wealth products (gold investment).
Hugo's services are also marketed as "Accounts Without Compromise." DBS Bank safeguards your funds, and your gold is insured and securely stored in LBMA-accredited vaults. Hugo employs anti-identity theft technology, two-factor authentication, and biometric authentication. They are among the first to provide a "numberless" Visa Debit Card issued by a Singapore Fintech. They claim to have 24/7 fraud monitoring and real-time alerts for all your transactions, and they are covered by Visa's Zero Liability policy in the event of any unauthorized transactions on your Hugo card.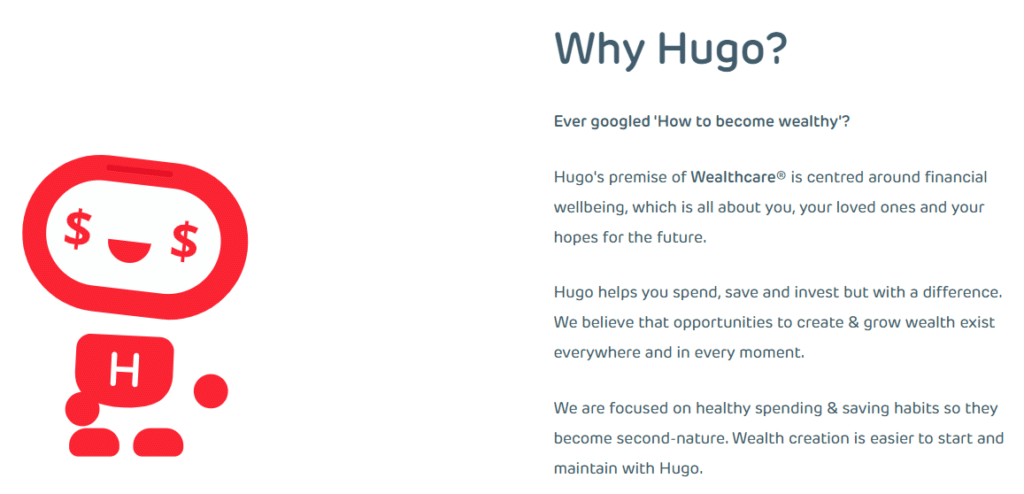 What is Goldback?
Goldback rewards will be credited into Customers' Gold Vaults. Goldback is a cash rebate that is automatically invested in physical gold when you spend your Hugo Visa card. The Goldback transaction details are available in the Hugo Gold Vault in-app.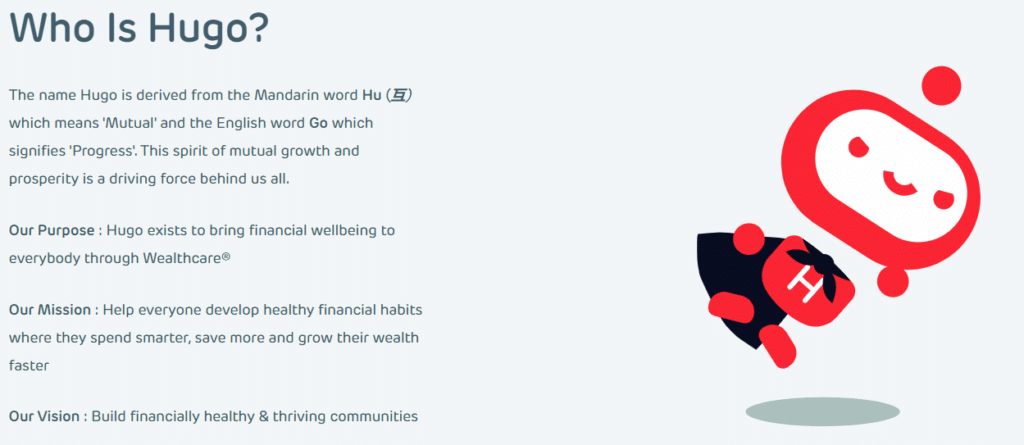 My views on Hugo Save
My Hugo Visa Debit card would be used for small purchases such as public transportation, grocery shopping, and day-to-day expenses. Do not undervalue all of these small expenditures; when combined with Roundups, they add up to quite a bit of money. If you make a lot of small purchases on a daily basis, you can probably just use Roundups for gold purchases instead of manually calculating dollar cost averaging (DCA). Having said that, I still buy gold on occasion during price drops. For larger purchases, I would use credit cards that offer better rewards and/or cash back.
Changing my habits was one of the first challenges I faced when using Roundups. I was used to using one credit card for all of my purchases, so I had to make a concerted effort to modify my usage to maximize the benefits. But I have an odd habit. Instead of automating bank transfers to my Hugo account, I would make them by hand. It serves as a reminder to me to keep track of my spending and where my money is going. When doing too much automation, one could take certain details in life for granted, and when an issue comes, it may have been too late.