When you sign up with Cake DeFi using the referral link or referral code 347017 and make your first deposit of US$50 or more, you will receive a US$50 DFI start-up bonus (with any coin).
This bonus will be frozen in the Freezer for 180 days, during which time it will automatically yield staking returns.
Special Offer: Refer a Friend to the Cake DeFi Olympic Bake-Off
Cake DeFi is doubling down on its referral prizes in honor of the spirit of the international multi-sport tournament.
Customers of Cake DeFi will be able to participate in the Olympic Bake-Off, with the potential to win medals and large awards for each successful referral.
Each medal has a prize fund allocation, ranging from $50 for bronze medalists to $400 for World Record Bakers, with a total prize fund allocation of $750 for those who win them all.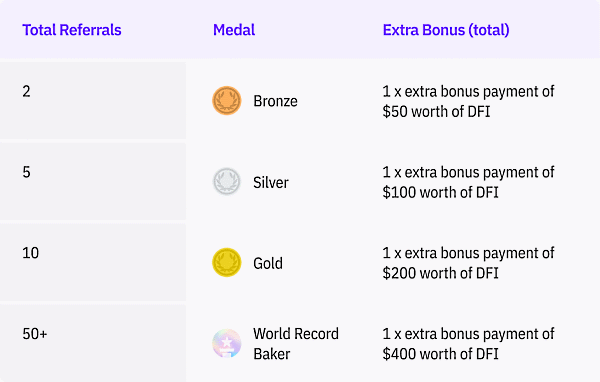 Referral bonuses will be stored in users' Freezer accounts for 180 days; however, medal-winning incentives will be deposited instantly into their accounts. Read more here.
What exactly is Cake DeFi?
Cake DeFi is one of the fastest-growing financial platforms in the world, allowing users to earn and create rewards and returns on their bitcoin investments.
Cake Pte Ltd is a member of the Singapore Fintech Association and ACCESS and is registered in Singapore (201918368M).
Are you interested in learning more about how it works?
Can I put my faith in Cake DeFi?

Cake DeFi is based in Singapore and is completely compliant with all of the Monetary Authority of Singapore's regulatory standards (MAS).
What are Cake DeFi offerings?
Liquid mining: Deposit your preferred coins into shared liquidity mining pools and mine popular coin pairings for large profits with little effort.
Staking: Join fully transparent masternode pools to earn up to 103 percent in real-time staking yields without the hassle of hosting your own nodes.
Lending: Lend out your BTC, ETH, USDC, and USDT.
Keep up with all of the newest Cake DeFi news
You can follow them on these channels:
What is the difference between a DFI token and a DeFiChain?

DeFiChain DFI Token explained in depth in a YouTube video dated July 2020:
Coingecko has the one of the most up-to-date DFI token price. A DFI coin is currently trading at roughly $2.84 on 10 Aug 21.
What will I be able to do with the DFI tokens I've earned? How can I exchange my DFI for BTC, other cryptocurrencies, or fiat currency?
Cake DeFi does not offer conversions from DFI to BTC, other cryptocurrencies, or fiat because it is not an exchange.
If you want to convert or exchange your DFI, you must first withdraw it to a DFI-listed exchange.
A complete list of exchanges that support DFI trading pairs can be found here.
Cake DeFi levies a set withdrawal fee of 0.2 DFI for DeFiChain as of August 10, 2021.
Cake Defi enables earning from the following cryptocurrency as of August 10, 2021:
Dash (DASH)
Ethereum (ETH)
Tether (USDT)
Bitcoin Cash (BCH)
USDC (USDC)
Litecoin (LTC)
Dogecoin (DOGE)
DeFiChain (DFI)
Bitcoin (BTC)
Withdrawal fees
Please keep in mind that Cake DeFi alters fees on a regular basis to reflect current market conditions, and you may see the withdrawal charge in your dashboard before requesting a withdrawal.
My Cake DeFi Signing Up
Experience Signing up is very simple, however the "Know Your Customer" (KYC) process is laborious for me. I needed to:
take a photo of my NRIC front and back
upload a latest phone bill (within 3 months from date posted)
take a selfie with my NRIC, together with a piece of paper with my full name, write a word "Cake" with the current date.
However, the verification process was relatively rapid. On a Sunday afternoon, I uploaded everything and was validated by the next day!
How do I get a referral sign up incentive by depositing tokens into Cake DeFi?
Go to your Cake Wallet (Balances) from your profile menu to quickly locate your address.
To deposit a coin, select it and click "Deposit." Make a copy of the deposit address.
Send your coins to your Cake deposit address from your external wallet/exchange/etc.
I choose to use a crypto exchange to deposit the DASH token into Cake DeFi.
Consider crypto exchanges for DASH tokens, such as binance or crypto.com
Because of its cheap withdrawal fees and $0 deposit fees on Cake DeFi, I chose the DASH token to transfer into Cake DeFi. It took about 20 minutes for the transfer to complete and display in my Cake DeFi balances.
If you choose another coin, double-check that the crypto exchange's withdrawal costs and Cake DeFi's deposit fees are both acceptable.
Receiving the referral bonus immediately after depositing
As soon as Cake DeFi verified the payment, I received a separate email informing me that I had been awarded the referral sign up incentive.