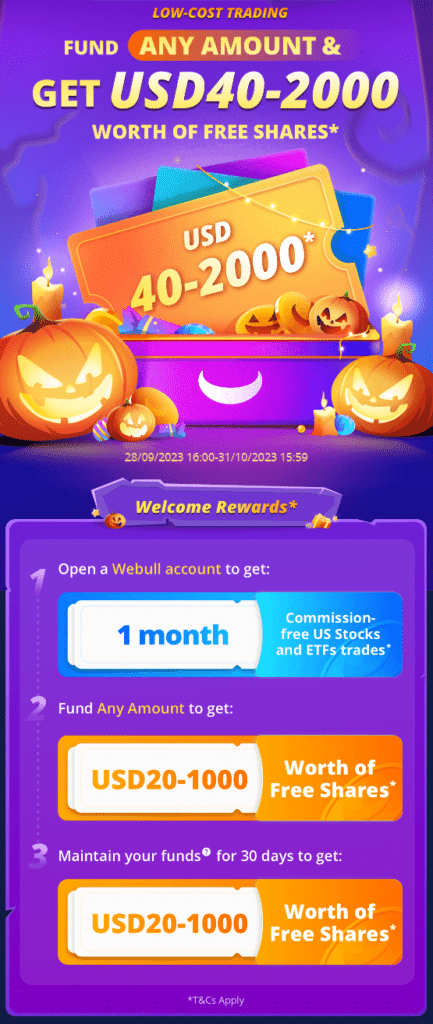 Campaign period: Till 31/10/2023 15:59
Download the Webull App and head to the "Promotion Center" to claim your rewards.
Note: After clicking "Sign Up" on the Webull sign up page, you should see a form where you may enter your cellphone number. If you don't see it, try a different browser or turn off your pop-up & ad blockers.
About webull
Webull Financial LLC is a Chinese-owned brokerage based in New York that was founded in 2017. It is owned by Fumi Technology, a Chinese holding company backed by Xiaomi, Shunwei Capital, and other Chinese private equity investors.
Webull Securities (Singapore) Pte. Ltd. ("Webull") (UEN: 202116981M), a Capital Markets Services Licence holder under the Securities and Futures Act 2001, licensed and regulated by the Monetary Authority of Singapore, started in Singapore in May 2022.
Webull intends to extend and service the Asia Pacific (APAC) area, with Singapore serving as the APAC Regional Headquarters.
Do you need more reasons to select Webull?
Webull is an integrated self-directed investing platform. With innovative tools and services, the Webull investment platform delivers a high-quality user experience.
Key characteristics include:
genuine no-commission when trading stocks, ETFs, and Options
USD0 per contract when trading US options
no maintenance fees
24/7 in-app help centre avaiable
real-time quotations

Full extended hours trading 16 hours of trading in US market hours 24/7 in-app support centre research and trading tools

NASDAQ TotalView and NBBO quotes to assist investors better understand market demand and supply
The Webull App on both iOS and Android are straightforward, with charting features enable users to analyze and capitalize on investment possibilities.
Trading in fractional shares
Trading fractional shares is a beneficial option that not every brokerage provides. It enables investors to invest in pricey stocks without being overly concentrated on a single ticker.
Webull allows you to trade fractional shares for as little as $5 USD.
Fees and commissions are minimal
https://www.webull.com.sg/pricing
Webull offers actual zero commission trading in the US market, which means:
There are no platform fees.
There are no membership costs.
There are no contract costs.
Fees paid by regulators, exchanges, and third-party organizations for US stocks, ETFs, and options may still apply.
How to Sign Up for a Webull Account
Step 1: By clicking on the sign up link, the Webull signup page will be opened in a new browser window.
You should see a form to sign up using your cellphone number after clicking "Sign Up" on the Webull sign up website. If you don't see it, try a different browser or turn off your pop-up and ad blockers.
Continue by registering for a Webull account with your cellphone number. Registering merely allows you to log in to the Webull app platform. Your trading account has not yet been established.
Step 2: Install the Webull app and sign in using the account you created in the previous step.
Step 3: From the Webull app, pick "Open Account" (middle tab at the bottom of the screen) and proceed as directed.
You may use SingPass MyInfo to autofill several of the fields. Filling out the paperwork took roughly 10 minutes in total.

Webull will assess the account opening application when you have completed the preceding procedures.
Adding money to your Webull account
When your account is authorized, the Webull logo will replace the main tab at the bottom of the screen. Tap it and follow the on-screen steps to create a trade password. A six-digit PIN serves as the trading password.
Steps for Webull Funding
You will be able to fund your account when you have selected your trading password.
I went with the electronic Direct Debit Authorization (eDDA) recommendation. I entered into my DBS internet banking and followed the on-screen directions to set up the eGiro setup.
I was able to fund my Webull account in seconds once the eGiro was set up.
Webull had created steps by steps guide to show you how you can fund your account
How long will the funds appear in your account?

Receiving the welcoming bonuses
To get the 150 USD worth of cash vouchers, prospective clients must complete the following tasks:
The first 100 USD cash voucher

Make an initial minimum deposit of SGD2,000 and execute at least 1 purchase trade of either Stocks or ETFs (amounting to USD100 or more), on the US market. The Account's 'Net Cumulative Deposit' must be maintained at or above SGD2,000 for at least 30 calendar days from the day the first deposit is settled. That is, you cannot invest SGD2,000 to acquire the free shares and then immediately withdraw your cash.

Next 50 USD cash voucher

Execute 1 buy trade of Options on the US market within same 30 days
All requirements must be satisfied before 15:59 SGT on the 30 Sep 22. Detailed terms and conditions can be found here.
No SGX support
Webull does not support trading in the Singapore market as of its debut date in May 2022. (SGX). Hopefully, they will implement this feature soon.